Our 3 Hour Guided Zipline Tours of 5 lines is $139.00 plus tax. Rates include all necessary equipment, boat transportation, and bottled water throughout the tour. You will have all day access to our private lake front property located at registration, where you can picnic, play games, or relax in one of our hammocks. Reservations Required! Read Our FAQ's.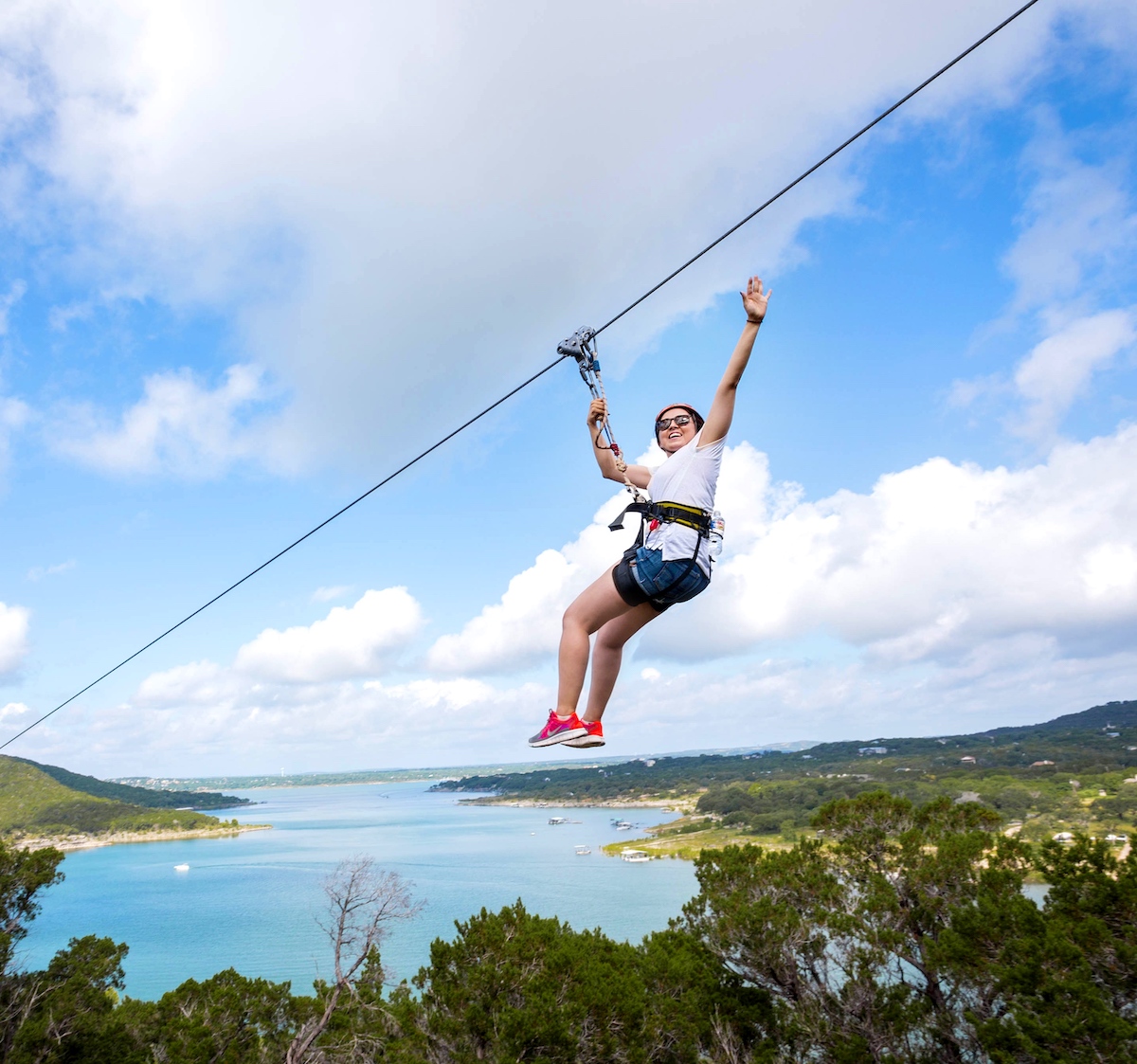 your experiEnce Includes:
Sit back and relax on a leisurely cruise across Lake Travis. Soak in the gorgeous Hill Country views as we make our way to start your adventure on Zip Island.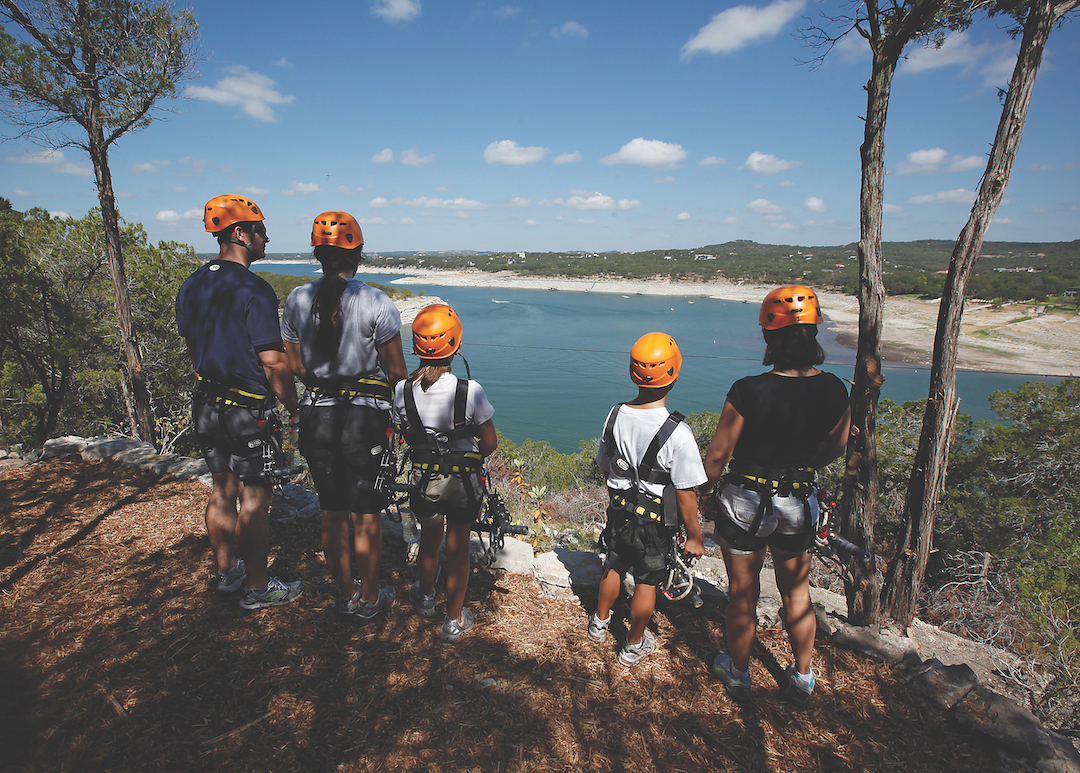 Our professionally guided 3-hour tour includes just over a mile of scenic hiking which is spread out between all 5 ziplines. Immerse yourself in nature and take in the gorgeous scenery while your tour guides educate you on the local ecology and history of the area. The final hike is equivalent to 20 flights of stairs, so remember to wear proper footwear and stay hydrated!
The first 2 lines on the course are considered the "Bunny Slope" lines where you'll get comfortable with the gear and riding our ziplines. The last 3 lines are the Longest and Fastest Ziplines in Texas! Your Adventure leads up to this moment. Race down lines from 1600 – 2800 feet in length and up to 65 mph! Our final zipline lands at our concession stand where you can enjoy an ice cold beverage on our observation deck. You'll then have all day access to our Private Lake front Property where you can picnic, play games or relax in one of our hammocks.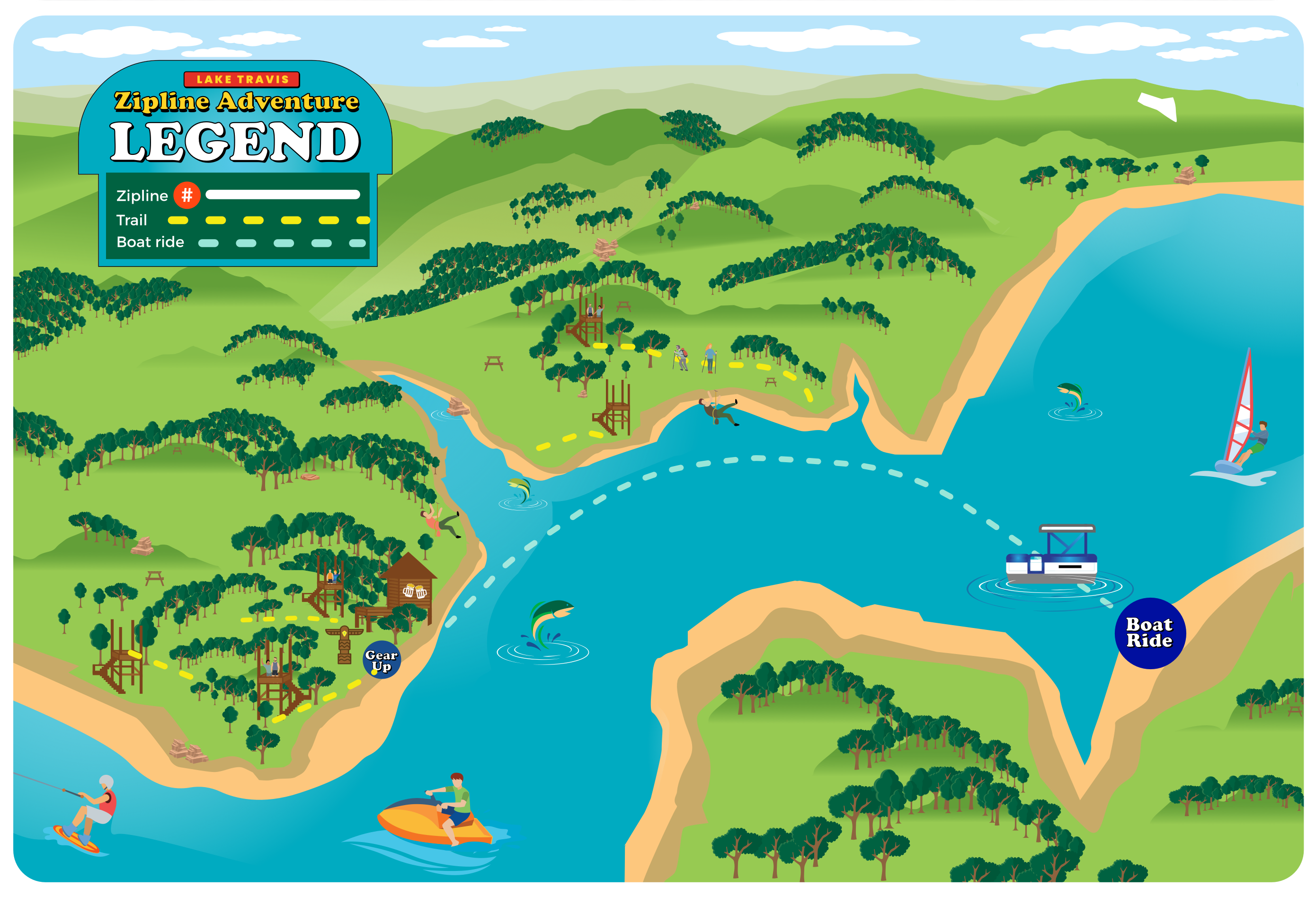 ×
Bunny Slope #1
(Bunny Slope 1 & Flight Safety School) They will learn safety on the lines, zipline riding styles and get used to the feeling of ziplining on the first 2 bunny slope lines.

Max Speed: 30 mph
Distance: 300''
Elevation: 810''
Bunny Slope #2
(Bunny Slope 2) Depending on Condition:

Max Speed: 30 mph
Distance: 400'
Elevation: 820'
The Leap of Faith
(The Leap of Faith) Depending on Conditions-

Max Speed: 55 mph
Distance: 1550'
Elevation: 1800''
The Line of Majesty
(The Line of Majesty) Depending on Conditions-

Max Speed: 50 mph
Distance: 1110''
Elevation: 1600''
The Double Barrel Shotgun
(The Double Barrel Shotgun) Our longest and Fastest zipline. 2 Side by Side lines that Land on top of our Concessions stand, Last one down buys drinks!. Takeoff point: 902ft, Landing Point: 718ft.

Max Speed: 65 mph
Distance: 2800''
Elevation: 1900''
GEAR UP
This is where everyone will meet their second tour guide, learn about their gear and harness, and get outfitted in their harnesses. Also, their last chance for indoor plumbing until the end of the tour!

Max Speed: mph
Distance: '
Elevation: '
Boat Ride
5 Minute leisurely boat ride from Registration to Zip Island. (can you also find a way to incorporate or add a popup at the boat dock/ beach area that explains that the guests can utilize the private lakefront property before/after the boat ride. This area includes beach games, hammocks, picnic tables, and loungers)

Max Speed: mph
Distance: '
Elevation: '